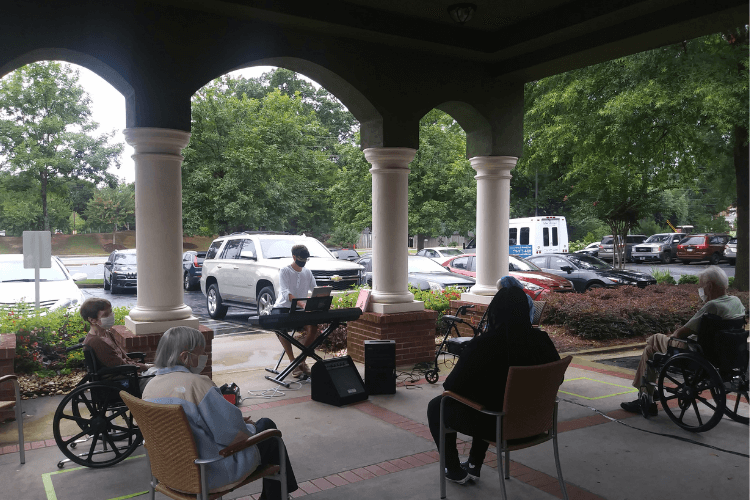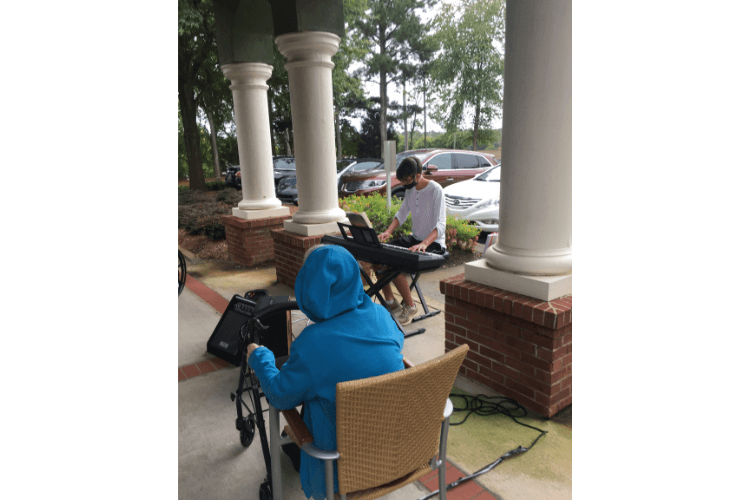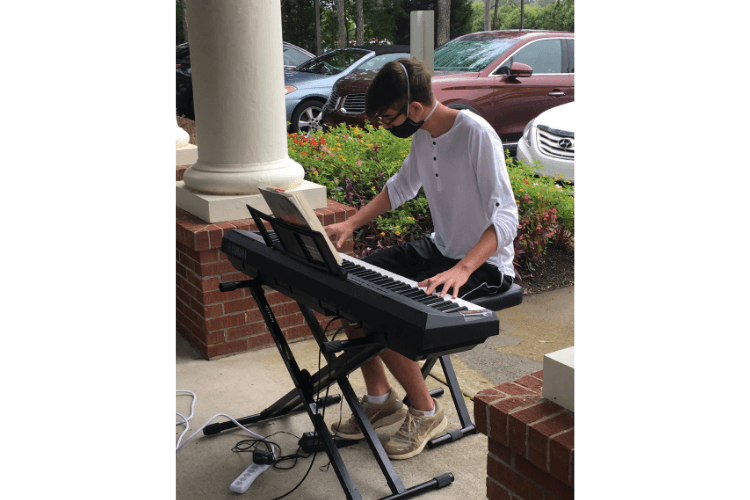 There's something special about watching a talented young person perform live music right in front of your eyes. Just ask the residents of Arbor Terrace of East Cobb. They were treated to a performance Sept. 15 by Michael Solomon, a pianist, composer and high school senior from Marietta, Ga.
Solomon first connected with Arbor Terrace while handing out roses to residents as part of a community program. While there, he and his parents reconnected with Hattie Moon, a resident and a friend of his family they hadn't seen in years.
The family started visiting the community from time to time, and on one visit, Solomon gravitated to the piano and started playing spontaneously.
"The residents enjoyed it, and I enjoyed it, so we arranged to make it a regular thing," he said. He has been studying the piano for 10 years and plays worship music in his church band every week. For safety, Solomon's performances are held outside, with all in attendance socially distanced and wearing masks. He wears his own distinctive mask for the performances.
Not only is Solomon a talented musician, he is a talented composer as well. In 2019, he composed the original score for a professional ballet, "Dracula: A Love Story," performed by Southern Arc Dance and the Carroll Symphony Orchestra.
"I wrote all the music for the orchestra's 20-plus instruments, notated it to sheet music and played the keyboard at three productions," he said. "'Dracula' was an incredible opportunity, and a great learning experience.
During the September 15 performance, Solomon treated residents to a concert featuring some of his own compositions, as well as renditions of Scott Joplin's "Maple Leaf Rag" and "The Entertainer."
"Ragtime is a very catchy style that will put a smile on anyone's face," he said.
Solomon also performed a few classical selections, including Fredéric Chopin's "Fantaisie Impromptu;" "Étude Op. 10 No. 1;" "Étude Op. 10 No. 6;" "Étude Op. 10 No. 9;" as well as "Étude Op. 25 No. 11 (Winter Wind)."
"I actually know all 24 Etudes by Chopin, but these are my favorite and most polished ones," he said.
Other songs in his program included Ludwig van Beethoven's "Moonlight Sonata" and a few jazz standards, including "My Way," "Misty," "At the Mambo Inn," and many others.
The high schooler plans to study composition in college.
"Whether I become a film scorer or a lounge pianist, I want to incorporate music in my life," he said.
"We are so pleased to have this talented young man showcase his talent with our residents," said Shirlene Smalls, Engagement director at Arbor Terrace of East Cobb. "I am claiming it now; one day when Michael becomes famous, we will be able to say we knew him when!"