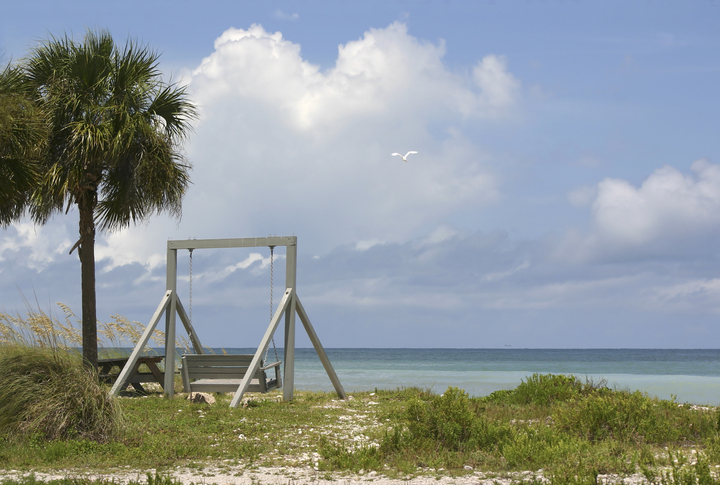 Florida's Gulf Coast shores are consistently ranked among America's most beautiful beaches. Here in Citrus Park, we are lucky to have some of these gems almost in our own backyard.
There are dozens of spectacular white sand beaches less than an hour's drive from Citrus Park, each with its own unique personality and attractions. As Florida's beach season warms up, we compiled a list of the best senior-friendly, day-trip-worthy beaches you will want to explore and discover.
One of Florida's most beautiful barrier islands, undeveloped Honeymoon Island State Park, has more than 4 miles of sandy shore to explore. Visitors can also stroll through one of the last remaining virgin slash pine forests while looking for native wildlife like eagles, ospreys, great horned owls, and gopher tortoises.
Be sure to stop by the Rotary Centennial Nature Center to learn about the park's history and natural resources. You'll also see photos of the newlyweds who won the 1939 Life magazine contest that gave the island its name.
Some of the most popular activities at Honeymoon Island State Park include swimming, fishing, hiking, and shelling. You can even bring a four-legged friend and spend some time playing on the park's dog beach.
If you have some extra time, the park is also the ferry terminal for accessing another nearby state park. Which makes an excellent segue into our next beach pick!
If you're looking for an oceanfront adventure that's a bit off the beaten path, take a ferry ride from Honeymoon Island State Park and experience Caladesi Island State Park. One of the last untouched islands on Florida's Gulf Coast, Caladesi Island is accessible only by boat.
Whether you explore the island's pristine beaches, kayak through the mangroves, or take the trail through a slash pine forest to the historic Scharrer Homestead, this is sure to be a trip to remember.
Ferry service is available between Caladesi Island and Honeymoon Island State park, weather permitting.
Clearwater Beach was voted No. 1 in the U.S. on Tripadvisor's annual list of top beaches for 2019, 2018 and 2016, so it's a safe bet that you will love spending the day taking in all the area has to offer.
Though the centerpiece and major draw to Clearwater Beach is without a doubt its pristine white sands, there are dozens of additional activities to fill a perfect beach day. Stroll along the Beach Walk promenade, grab some fresh seafood at one of the many nearby restaurants and cafes, and celebrate the sunset with the street performers and craft vendors at Pier 60's nightly festival.
Don't stress about finding a parking spot when you get to Clearwater Beach. You can park for free in downtown Clearwater then ferry over to the beach for a day of sand and sun.
Fort De Soto Park in Pinellas County comprises five interconnected keys (which are small islands), and is home to mangroves, palm hammocks, wetlands, and more than 328 species of birds.
Visitors to Fort De Soto Park can beachcomb along nearly 3 miles of snow-white sand, take a self-guided tour of historic Fort De Soto, fish in the Gulf or the bay from one of two piers, or experience the best of Florida's natural beauty along many natural trails.
There's no need to travel to exotic locales when you have some of the country's most beautiful beaches right down the street. When the time is right, plan a day trip with friends or family, sink your toes in sand, breathe in the salt air, and just relax.